Seeing as how my house
may sell tomorrow (we received an offer and placed a counter offer)
sold tonight and how I am
likely
going to Vegas in July, I thought I would give a little something back. In December I put a bounty on G-Rob. Not wanting to seem like I was picking on anyone I started looking for someone else worthy of a bounty (besides G-Rob won't be there anyway). Then I came up with the idea to have a contest. The winner of the contest will get a bounty placed on their head, courtesy of me. So for winning the contest you actually don't win anything, instead someone else wins at your expense.
So here is the contest. Below are 10 seemingly random photos. However each photo is inspired by a particular person with whom I have played poker with in Vegas. Name the person and/or their blog. The first one with 10 correct wins a bounty placed on them, courtesy of moi. Debonoir G-Vegasians not excluded. You can argue that my pic doesn't fit, but screw you I am the final judge and jury. Also if you enter and win but can't go to Vegas in July please designate whom you'd like the bounty place upon. Also, never forget that the power of the WPBT resides in STL. That is right. Team STL won the last longer in December for a sweet payday.
Some hints:
G-Rob is not represented, yet 3 G-Vegasians are. No matter what you think I am not obsessed with G-Rob.
There are 2 New Yorkers and 1 left coaster. The balance are from the midwest. Furthermore, actually being able to identify who is in the photo will help.
1.)
Joaquin "The Rooster" Ochoa.
Thats pronounced "Joke-in"

2.)
This is a photo of
Allison Janey
who played CJ Craig on the West Wing.
CJ Hoyt

3.)
This is a photo from the Otis Elevator website. An elevator would have been too easy.
Otis

4.)
No that is not
Anthony Kedis
it is
Iggy Pop
. Once again, a dwarf would have been too easy.
Iggy.

5.)
I googled
F-Train
and found this photo.

6.)
Yes this is
S.t.B's
piss water domestic macro brew of choice.

7.)
Uh, not everyone with this haircut is in
"The Cure"
.
That's a photo of
Jesus and Mary Chain.
Their album
"Automatic"
is the inspiration for the title of
TooloftheMan's
blog.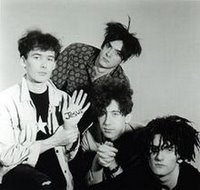 8.)
This is
PokerGeek
. Did no one see
this
? I mean come on its a photo of PokerGeek eating a fish. COME ON!

9.)
That is a
Princess
.

10.)
Yes that is a photo of a crazy, short, rich guy. No it is not
Ross Perot
. Its
Lou Holtz,
former coach of the South Carolina
Gamecocks
.
So the winner is TooloftheMan who defered to BG. A bird told me that BG isn't going to be in Vegas in July. So BG, who do you want the bounty on?